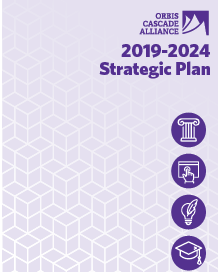 For the current strategic plan of the Orbis Cascade Alliance, see Strategic Plan FY2024-26.
In November 2018, the Orbis Cascade Alliance Council approved a comprehensive strategic plan for 2019-2024 which will strengthen the core services and programs of the Alliance and promote exploration of new services in areas of strategic importance. Creating the plan was a 16-month effort, and engaged hundreds of staff from Alliance institutions, as well as Alliance central staff, member-driven teams, Board, and Council.
Read the 2019-2024 Strategic Plan handout (PDF)
See all 2019-2024 Strategic Plan Initiatives
Vision
The Orbis Cascade Alliance, an exemplary academic library consortium, is a vital partner in advancing transformative learning and research and creating equity in higher education.
Mission
Orbis Cascade Alliance pushes the boundaries of what is possible in libraries through strategic collaboration in the Pacific Northwest. To advance member institutions, we create and deliver innovative, sustainable, and essential library programs and resources.
Strategic Themes
Along with establishing new vision, mission, and value statements for the Alliance, the Council has articulated four thematic areas that capture the impact that members want the consortium to have—both locally and globally. These themes identify strategic goals and accompanying initiatives to complete the plan: Strengthen Member Institutions, Improve Access to Information, Inspire Knowledge Creation, and Equip Students for Success.
Strengthen Member Institutions
A core tenet of the Orbis Cascade Alliance is that the consortium should increase the capacity of member libraries to provide information resources and services to their institutions, and thus strengthen the quality of each institution's academic programs and student experience.
Goals
Build member staff capacity to address challenges through innovative practices.
Maximize return on member investment through shared systems and resource purchase/licensing programs.
Coordinate and leverage expertise within individual member institutions for shared benefit.
See Strengthen Member Institutions Initiatives

Improve Access to Information
Orbis Cascade Alliance has expanded access to information to the students and faculty at member institutions through its resource sharing programs and coordinated licensing of electronic resources. Alliance member institutions are also dedicated to leveraging their collective capacity to improve access to information globally, and working to create a more open and sustainable system of information distribution and scholarly communication.
Goals
Implement programs to increase access to physical and digital collections across member institutions.
Enhance equitable access to information by curating, disseminating, and improving discoverability of both unique and existing content.
Catalyze a more open and sustainable scholarly communication system that prioritizes high quality resources that are open, free, or low-cost.
See Improve Access to Information Initiatives

Inspire Knowledge Creation
Member libraries hope to inspire creativity and the creation of new knowledge by students, faculty, and researchers at their institutions. In addition, the Alliance seeks to develop shared services that support students and faculty in their roles as creators, and that establish libraries as partners in the creation and dissemination of new work.
Goals
Partner in the creation of high quality research, scholarship, and curricula.
Develop infrastructure and expertise to support the dissemination of newly created or adapted information resources.
Curate physical and digital collections that foster diversity and inclusiveness in research, scholarship, and teaching.
See Inspire Knowledge Creation Initiatives

Equip Students for Success
A core mission for each member institution is to equip students with the knowledge and skills needed for both academic and lifelong success. Through its shared resources and programs, the Alliance seeks to contribute to that mission by facilitating students' equitable access to, and efficient use of, information resources as both consumers and creators.
Goals
Contribute to students' ability to navigate an information-rich environment as literate information users and creators.
Create, disseminate, and preserve the information resources needed to enhance student learning, scholarship, and creative activities.
Reduce student financial pressures by promoting and supporting open and affordable resources.