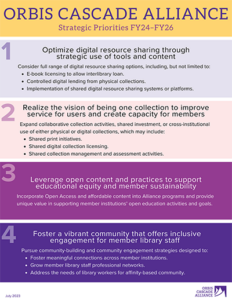 The Orbis Cascade Alliance has launched its FY24-26 strategic plan, following a collaborative process that began in September 2022.
Download the FY24-26 Strategic Plan handout (PDF)
The strategic plan focuses on four themes that will strengthen the core services and programs of the consortium, and promote exploration of new services in areas of strategic importance.
Optimize digital resource sharing through strategic use of tools and content
Consider full range of digital resource sharing options, including, but not limited to:
E-book licensing to allow interlibrary loan.
Controlled digital lending from physical collections.
Implementation of shared digital resource sharing systems or platforms.
Realize the vision of being one collection to improve service for users and create capacity for members
Expand collaborative collection activities, shared investment, or cross-institutional use of either physical or digital collections, which may include:
Shared print initiatives.
Shared digital collection licensing.
Shared collection management and assessment activities.
Leverage open content and practices to support educational equity and member sustainability
Incorporate Open Access and affordable content into Alliance programs and provide unique value in supporting member institutions' open education activities and goals.
Foster a vibrant community that offers inclusive engagement for member library staff
Pursue community-building and community engagement strategies designed to:
Foster meaningful connections across member institutions
Grow member library staff professional networks
Address the needs of library workers for affinity-based community
The Alliance will share progress on strategic initiatives through multiple forums, including member events, email lists, and its newsletter.